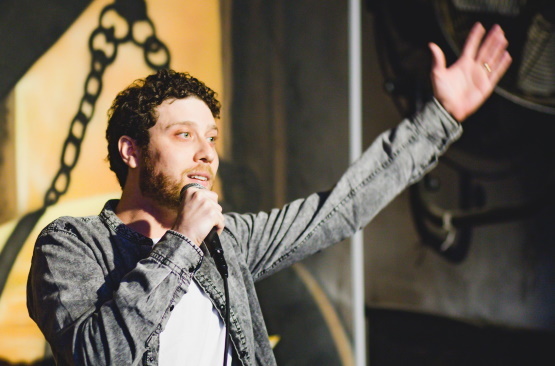 Out of focus -Gaston Drogger's standup show in the dark
About theworkshop
Out of focus -Gaston Drogger's standup show in the dark
Is There something funnier than the truth? Is there pain wherever there's laughter?
Gaston Drogger takes his life story and turns it into a Wild and uninhibited comedy show, that speaks of blindness of married life, About fatherhood and his Argentinian identity.
the show is accompanied by snacks that will be served in complete darkness with the help of blind\visually impaired instructors.
The darkness allows the senses of taste,smell,humor & hearing to sharpen & invites you to a glimpse into the world of blindness and experience it.
Come experience culture in a different way!
* The show is suitable for the ages of 16 and up
* You will be able to purchase alcohol (from the age of 18 and up,conditional on presenting an ID card)
The center has a kosher certificate (dairy\fish) from TLV Rabbinate.
Duration of the show: about an hour and a quarter.
Waze: Jaffa port parking lot
To order tickets click here, or call us-03-6330808 or contact us by email: welcome@nalagaat.org.il